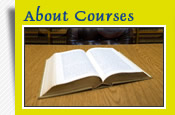 PATTERN OF COURSE
| Programme | No. of Seats | Eligibility | Duration |
| --- | --- | --- | --- |
| B.Ed. | 100 | Graduation with 50% Marks | One year |
Admission Procedure
The Candidates has to fulfill the eligibility as per norms of M.P. Government.
50% marks are compulsory for Gen. 45% Marks for OBC/SC/ST candidate in Graduation / Post Graduation.
The Candidates must be Graduate from a recognized University.
Candidates must also deposit the full registration fee at the time of registration.
Candidates must submit the attested copies of the relevant documents at the time of registration.
The Structure of the B.Ed. syllabus comprises part – I theory and part- II practical as follows:-
PART – I (THEORY)
Education in emerging India.
Educational Psychology.
Secondary Education & Teacher Functions.
Special Methods.
Additional Specialization.
Table 1 : Paper 4 & 5 – Special Methods
GROUP A
GROUP B
(For Arts & Commerce Faculties)
GROUP C
(For Science, Home Science &
Agriculture Faculties)
Teaching of :

Hindi
English
Sanskrit
Urdu

Teaching of :

History
Geography
Civics
Economics
Social Studies
Mathematics
Home Sciences

Teaching of :

Science
Chemistry
Physics
Mathematics
Life Sciences
Home Sciences
Table 2 : Paper 6 – Additional Specialization

Action Research
Adult Education
Computer Education
Distance education
Educational administration, organization and supervision
Educational Technology
Elementary education
Environmental Education
Guidance and counseling

10- Health and Physical education
11- Measurement and evaluation
12- Non formal education
13- Population education
14- Special education
15- Tribal education
16- Value education
17- Women's education
Candidate is required to offer two subjects, one from group A and other one from Group B or Group C as per their graduation subjects.
Candidate is required to offer any one subject for specialization.
PART – II (PRACTICAL)
Micro-teaching 7 skills, 4 lessons per skills.
Teaching of subjects I 20 lessons.
Teaching of Subjects II 20 lessons.
Criticism lessons (Two one in each subject).
Assignments (Two- one in each subject).
Final lesson in Subject – I
Final lesson in Subject – II
Work experience (Two crafts).
Working with community / social services.
Ten psychology experiments.

Table 3 : Paper 3 – Work experience
Group – A
Group – B

Agriculture
Gardening & Horticulture
Tailoring & Embroidery
Book Binding

Drawing & Painting
Music
Dance
Toy making