M.Ed. Admission
1. Duration :
The M.Ed. Programme Shall be of a duration of two academic year
2. working days :
There shall be at least 400 working days exclusive of periods of examination and admission etc. for Instruction, Field work for dissertation and internship in a teacher education institution.
A Working Day Shall be of a minimum of 6 hours in a Six-day week, during which physical presence of all teachers and student shall be ensured to facilitate individual attention, guidance, advice and counseling.
3. Intake :
3.1 Intake upto total 50 students shall be sanctioned to such proven institution where the qualities of infrastructure, both physical and human are of high degree which can be vouched.
4. Eligibility :
4.1 Candidates who have obtained at least 55% Marks in the B.Ed. degree are eligible for admission.
4.2 There shall be relaxation of marks/reservation of seats for SC/ST/OBC and other categories as per the Rules of the Central Government/State Government/UT Administration concerned.
5. Admission Procedure:
5.1 Admission shall be made on the basis of entrance exam conducted by the state government
5.2 Any other selection process will be done as per the policy of state government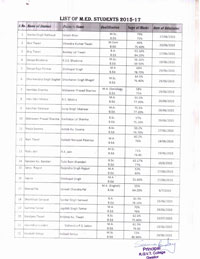 M.ED.-LIST